Smart parcel locker, also known as intelligent express locker, intelligent express cabinet, 
intelligent logistics cabinet, intelligent self-pick-up cabinet, etc., the product is composed of storage terminals and platform management system,
with intelligent storage, intelligent retrieval, remote monitoring, information management, information release and other functions.
Smart parcel locker can ensure the safe delivery and collection of express items through the application of metal structure, embedded computing, machine scanning module, wireless network module, metal keyboard, LCD screen, industrial touch screen, patented electronic lock and management software and other technologies.
The cabinet adopts cold rolled electrolytic steel plate with a thickness of 1.0mm, and the surface is sprayed with plastic.Cabinet door is made of cold rolled electrolytic steel plate with a thickness of 2.0mm. The surface is processed by electrophoresis and then sprayed with plastic.The 34-door intelligent express box can add 20 sub-cabinets, which can be combined into 54 intelligent express boxes, 74 intelligent express boxes and 94 intelligent express boxes.
main control system, door opening system, LCD screen, touch screen, scanning module, card reading module, metal keyboard, infrared detection module, 
network module, etc., expandable monitoring system, POS machine, id card verification system, etc.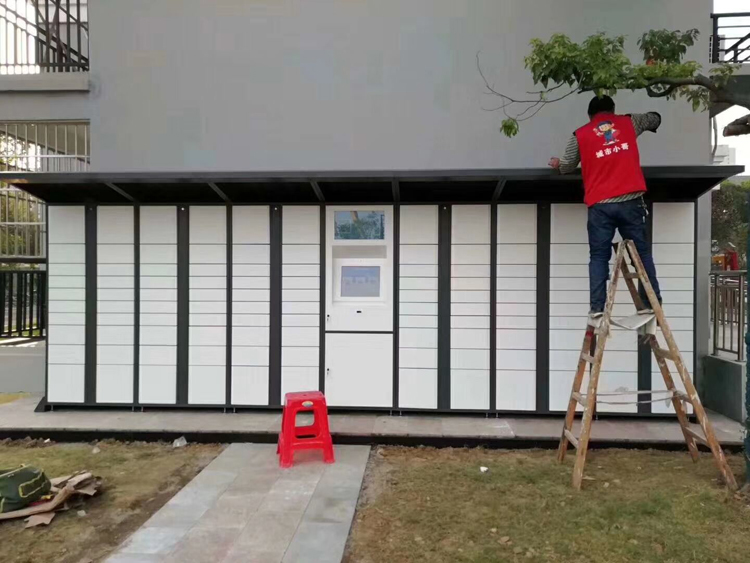 How is Aituo locker production?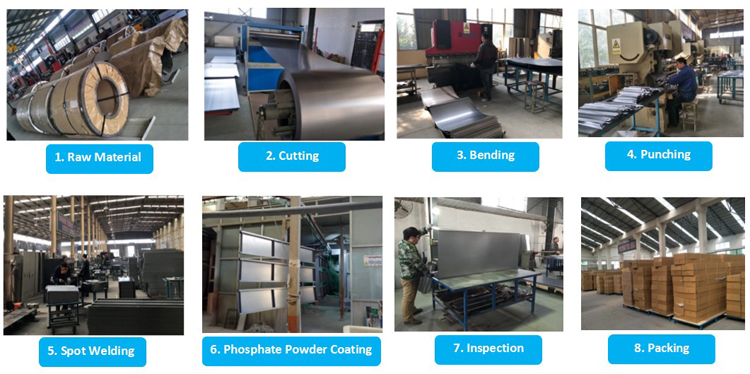 Aituo Production Mahine Line


Specification:
 
Model Number
AL5006E72
Product Name
Parcel Delivery Locker/Post Locker/Smart Parcel Locker
Material
High Quality Galvanized Steel                 
Front door/side panel: 1.2mm                      
Level panel:1.0mm                                                                 
Back panel:0.8mm                          
Screen
21.5 inch touchable screen
Computer
Industrial host, Android system,RK3288/4 core frequency 1.8 Ghz,2G Ram, 8G EMMC, RS485 Port*2, 4G and WIFI model is optional 
Barcode Reader
2D Barcode Reader
Lockers (Doors)
Secured Electronic Lock
Speakers
Bi-channel Speakers
Kiosk Size
H2020*W500*D500(mm)
Sub Cabinet Size
H2020*W940*D500(mm)
Kiosk Door
N/A
Sub Cabinet Door
20 Doors                                                                        
XL box: H400*W425*D500mm x 2                                                                 
L box: H300*W425*D500mm x 2                                                                                                                    
M box: H200*W425*D500mm x 6                        
S box: H100*W425*D500mm x 10
Storage temperature

-10

℃

 -- 50 

℃

Working temperature

0

℃

 -- 50 

℃

Net Weight:
Kiosk:85Kgs/Sub Cabinet:128Kgs
Gross Weight:
Kiosk:115Kgs/Sub Cabinet:168Kgs
How does it work?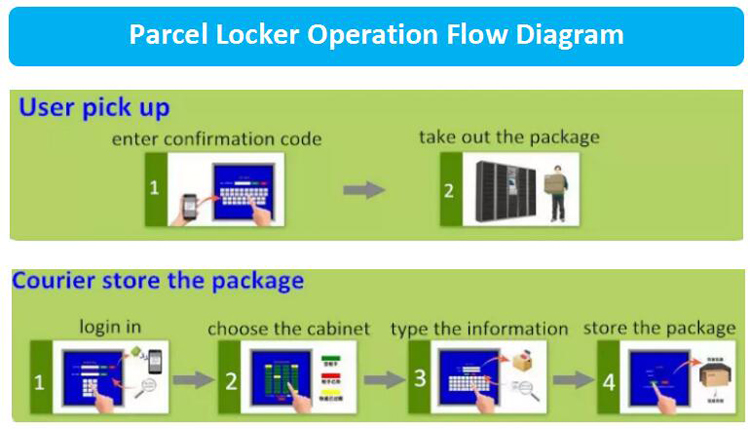 OEM Color Option: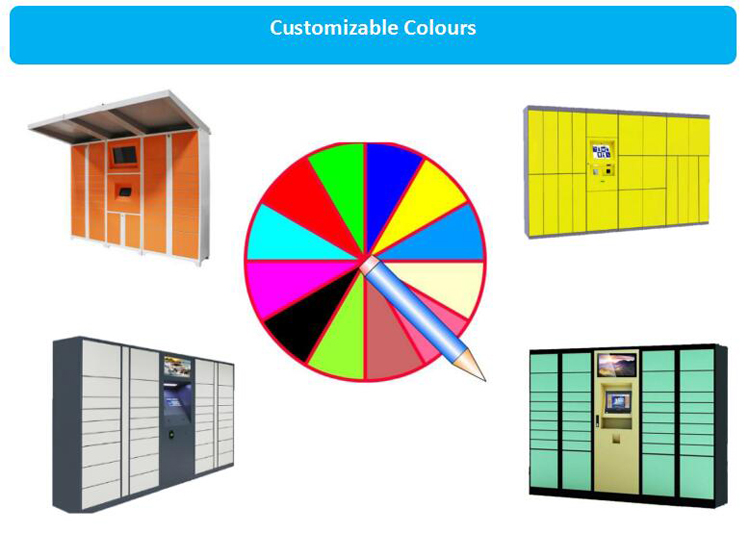 OEM Size for Customer: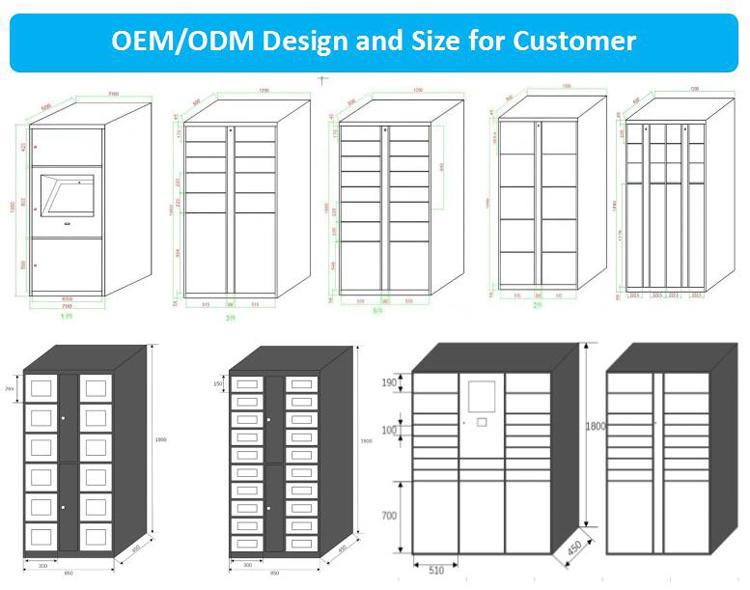 Application: Enterprises and institutions, libraries, hospitals, water parks and theme parks.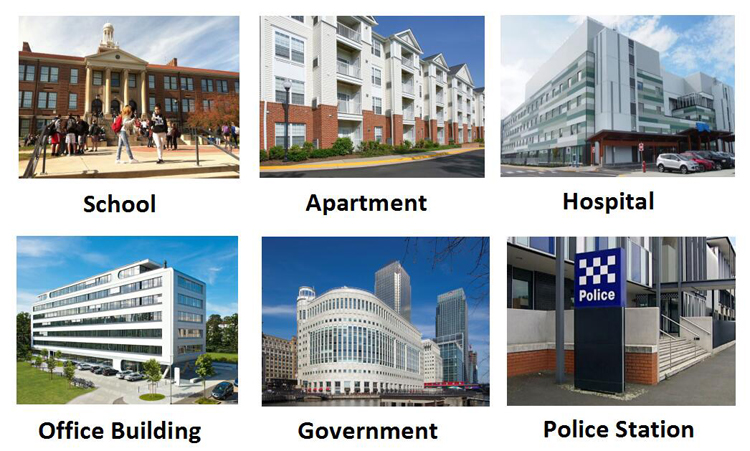 Company Introduction
Shenzhen AITUO IoT Technology Co., Ltd. is a national high-tech enterprise. It is the pioneer and reliable supplier and manufacturer of IoT hardware equipment, system and software platform products. We provide professional technique support and service from one-stop integrated solutions to products realization.
Our main products include: smart IoT system, storage management software and platforms, smart hospital locker, smart parcel locker, smart laundry locker, smart fresh locker, smart food locker, smart key locker, smart phone charging locker, smart networked storage locker, smart book locker, smart tool locker, electronic storage locker, ABS locker and other smart OEM/ODM locker. Products are widely used in smart logistics, smart e-commerce, smart medical care, smart campus, smart office, smart entertainment, smart production, smart life and other fields.
We have been focusing on the IoT technology since 2010, and have obtained several product patents and software copyrights. The company has passed ISO9001:2015 quality management system, CE, FCC and related quality certification. We adhere to the business philosophy "quality first, integrity innovation, to meet customer demand" , and provide high quality products, highly competitive price, professional technical support and perfect service for customers at home and abroad. Our current products have been exported to dozens of countries and regions and won the wide recognition and high comments.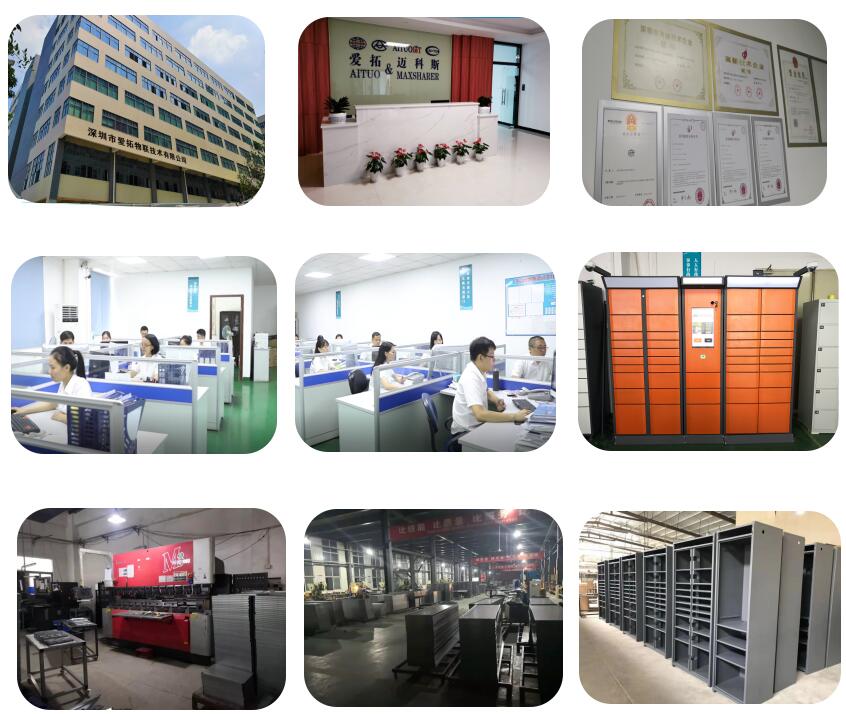 CE and FCC Certificates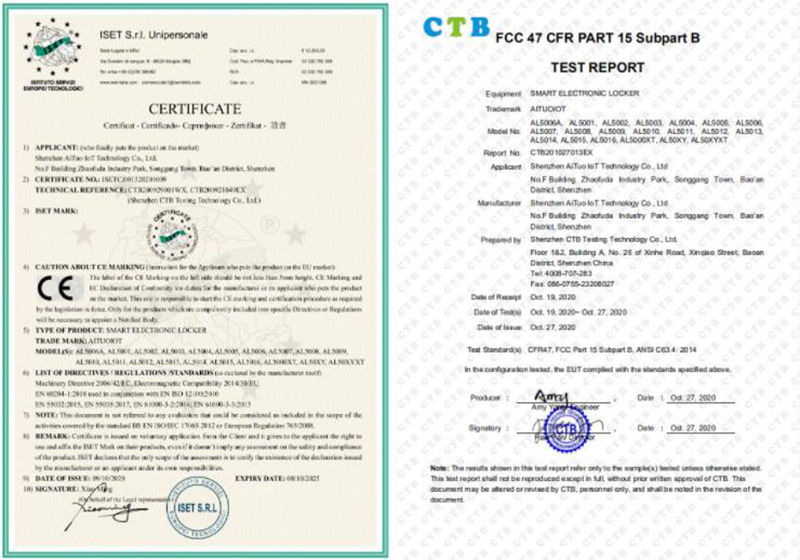 Exhibitions for IoT Technology and Smart Lockers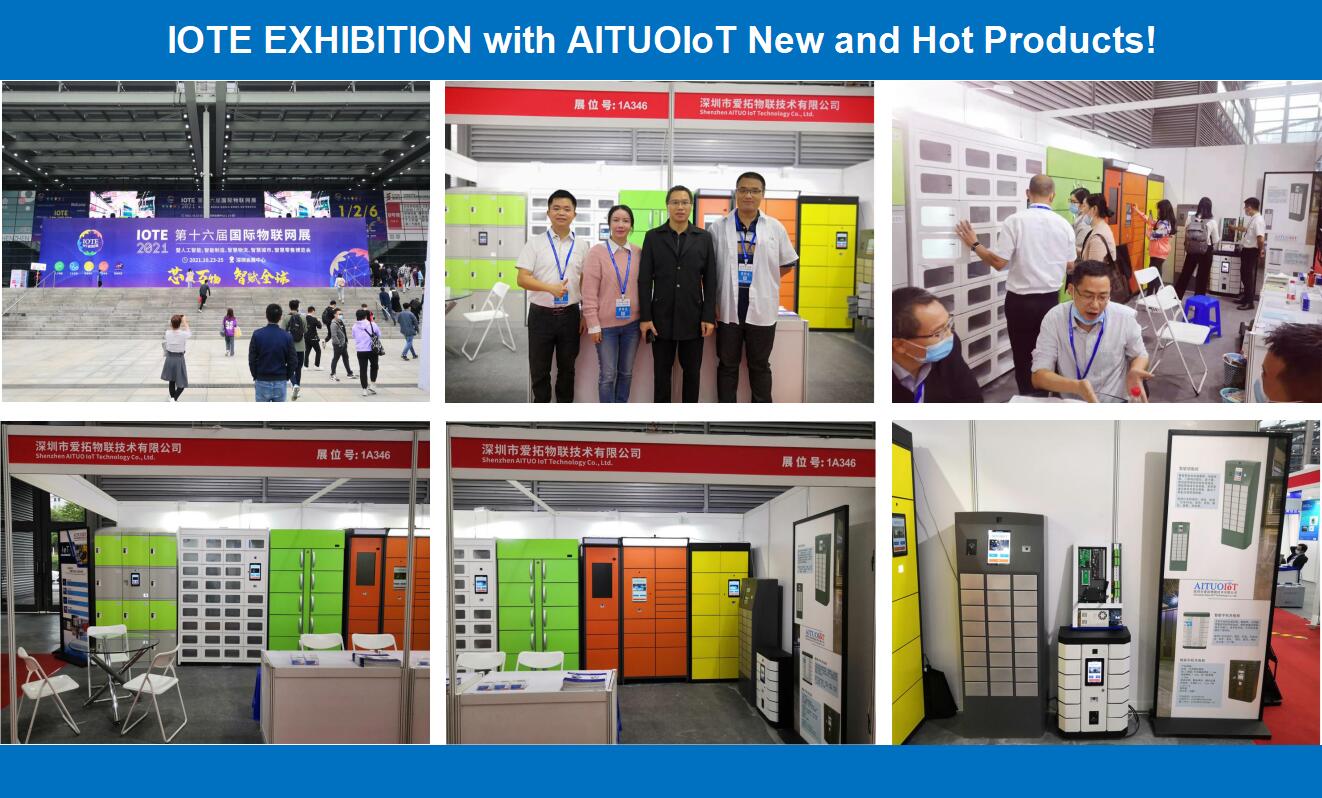 Our happy customers 5 star comments for our products quality and service.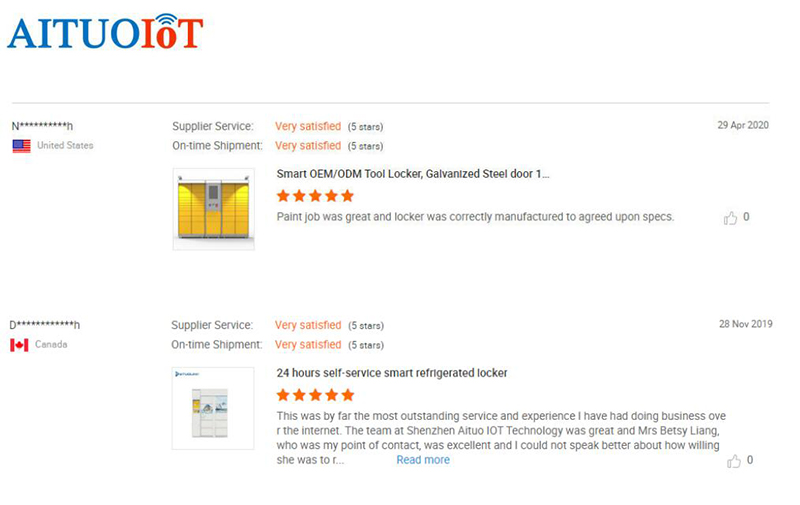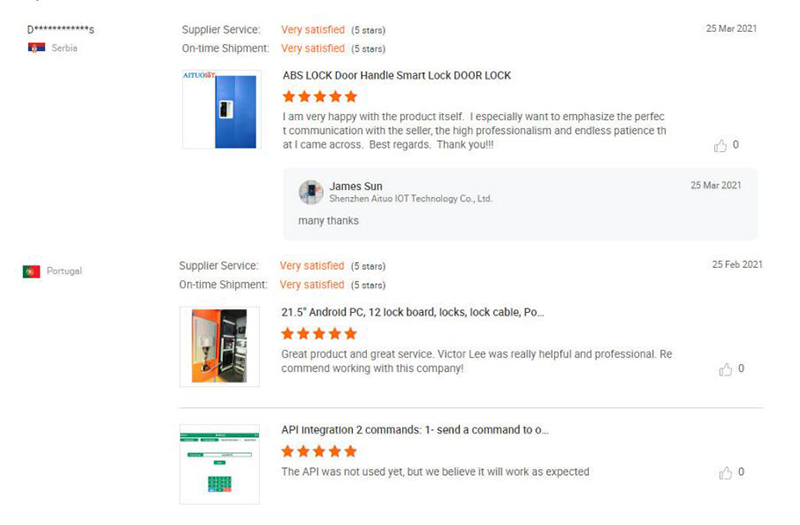 More hottest products for your better reference
1. Smart parcel delivery locker 2. Smart QR code storage locker 3. Smart laundry locker 4. Smart fresh locker
5. Smart food locker 6. Smart book locker 7. Smart tool locker 8. Smart UHF RFID locker 9. Electronic storage locker
10. Mobile phone charging locker 11. Smart luggage locker 12. Smart bicycle locker 13. Smart key locker
14. Smart vending locker 15. ABS storage Locker 16. other OEM/ODM locker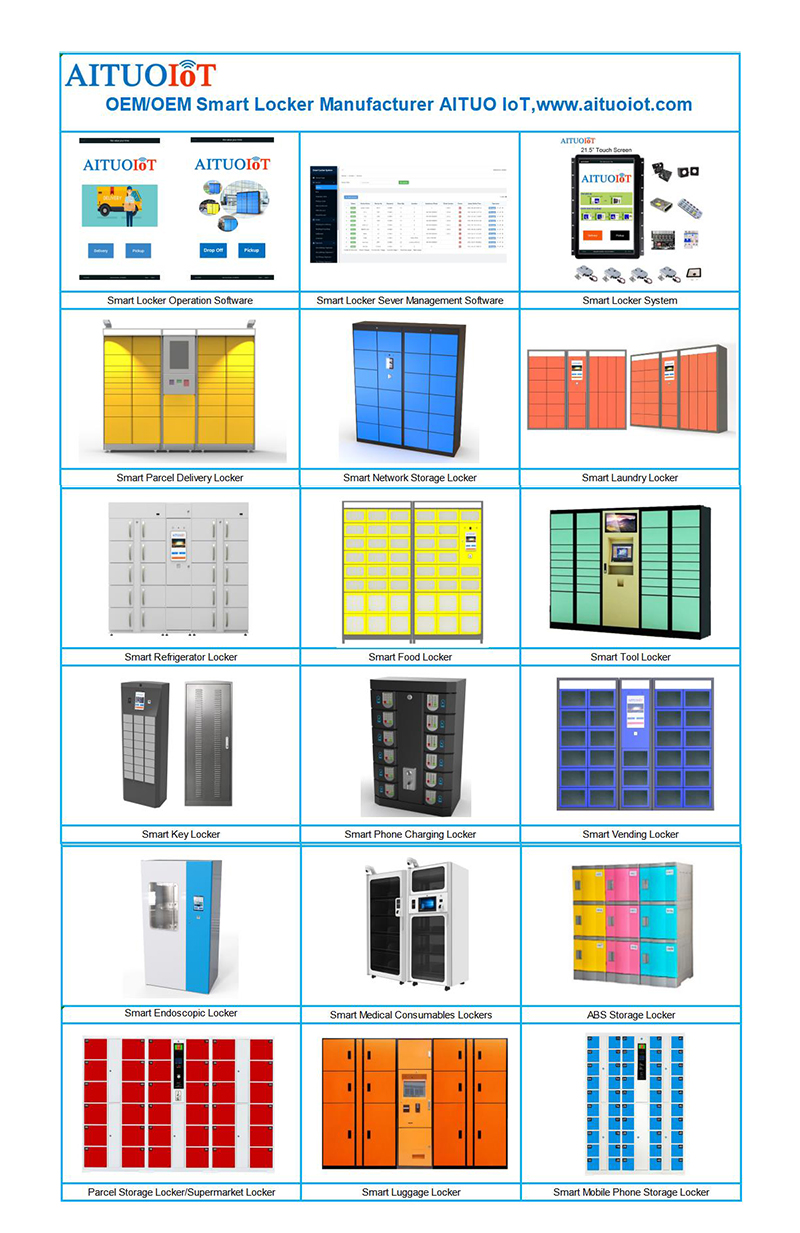 Thanks for your time to review our products.
Come on, my friend, contact us for price and catalogue now!