For any industry operators, tools and high value, high-risk, confidential items are very important and indispensable assets.Enterprises and public institutions, electric power or medical treatment all need to receive, return, find and maintain these items quickly and conveniently.
With the rapid development of artificial intelligence, the way to manage things by hand is complex and inefficient, which is far behind The Times.
RFID ai cabinet will change the management of items into real-time, efficient and accurate.
RFID ai cabinet is mainly composed of cabinet body, RFID reading unit, data acquisition terminal, etc.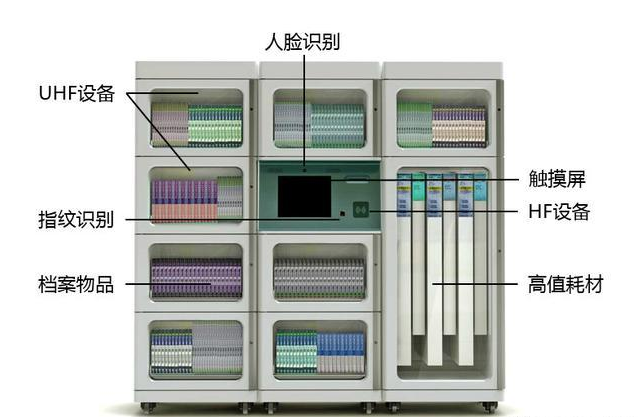 The cabinet door is opened after the staff passes the permission verification, and the automatic data collection and real-time transmission of the information to the data center during the storage and storage operation can realize the real-time monitoring and intelligent management of the whole process such as borrowing, returning, searching and inventory, so as to avoid loss and put an end to the occurrence of leakage events.
01
Multiple identification methods
Intelligent cabinet USES artificial intelligence-based face recognition, second generation certificate, fingerprint recognition, iris recognition, voice recognition and other recognition methods to determine user information, open the door video linkage video.
02
Real-time inventory
The cabinet is closed with built-in UHF reading and writing terminal to realize intelligent inventory of items and timing inventory.
03
Alarm function
If the items are not matched with the task list, or the inventory is insufficient, an alarm will be given, and the information will be pushed to the administrator's mailbox and mobile phone.
04
Information records
In the normal process, the system generates a record after the user takes the item. The record content includes time, place, personnel, item information, etc. The information can be presented in a form everywhere.
05
Video linkage
Video linkage video recording and photo taking for illegal taking out or putting.
RFID artificial intelligence cabinet is mainly applied in the management of classified documents, tools management, hazardous chemicals management, medical intervention high value consumables management and other directions, which can meet the different needs of customers in many industries and fields.